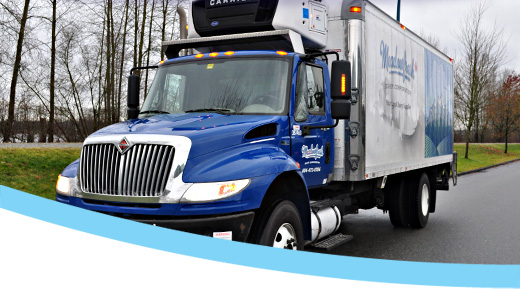 COMPANY BACKGROUND
Meadowfresh Dairy Corporation is a local BC based company that processes, packages, and distributes a wide range of dairy products for the Western Canadian market place.
Our customers are made up of both industrial CDC permit and non-permit based food processors who produce and distribute food products to Canadian and foreign markets. We also work with food service companies such as, food retailers, hotels, restaurants, caterers, bakeries and coffee shops. Meadowfresh has been in operation for just under 20 years. We operate out of our state of the art 25,000 square foot production facility in Port Coquitlam, BC.
Service is primary for Meadowfresh. Our service takes many forms and we strive to meet and exceed our clients expectations through dependable, prompt delivery, robust capacity, the ability to trouble shoot order changes and always have on hand a wide range of fresh dairy products and co-packing services.
MARKET NICHE / FLEXIBILITY
Cost effective & flexible packaging: Meadowfresh is able to supply dairy products in larger package sizes to accommodate the interests and needs of larger, higher volume dairy users. In this way, Meadowfresh is able to produce dairy products more economically using less packaging materials. The efficiency savings are reflected in Meadowfresh product pricing.
Recipes/private labels: Meadowfresh also focuses on producing dairy products to suit the unique dairy specifications of its customers. Meadowfresh is open to working with unique butterfat and other ingredient specifications which allow for a unique product line separate and apart from the traditional product offering available in the dairy market place. Meadowfresh supports private label opportunities for your custom products.
FRESHNESS AND SHELF LIFE
Meadowfresh fills dairy orders on demand to ensure freshness and quality. We strive to give you the longest possible shelf life.
PRODUCT OFFERING
Meadowfresh products include various types and specifications of fluid milk, cream, whipping cream, butter, cheese, eggs, liquid eggs, sour cream, cream cheese, cottage cheese, eggnog, yogurts, yogurt drinks, soy yogurt, soya beverages and ice cream mixes, yogurt mixes, ethnic products, specialty dairy products, organic milk.
DISTRIBUTION
Meadowfresh has an extensive distribution network within the Lower Mainland. Its large fleet of 7 5-ton refrigerated trucks allow it to efficiently deliver to almost any Lower Mainland business from Chilliwack, thru to West Vancouver and everything in between. Being both a manufacturer and a distributor allows Meadowfresh to quickly respond to customer feedback, to efficiently troubleshoot and most important, to cost effectively deliver high quality dairy products to its customers.
COMPLIANCE AND QUALITY
The Meadowfresh Quality Assurance Team ensures all Meadowfresh products are fully tested and inspected before delivery to our customers. Internal standards and operating procedures are maintained in addition to complying with the Canadian Food Inspection Agency (CFIA) regulations. Meadowfresh has the following quality assurance certifications and registrations:
• Federal Registration pursuant to the Canadian Food Inspection Agency
• HACCP compliant
• Kosher certified by BCK
• Organic Certification (Certified by PACS)
• British Columbia Milk Marketing Board Class "A" Vendor
• Recognized by the Dairy Farmers of Canada